| | |
| --- | --- |
| | |
| Your paint is washed, bugs and tar removed, hand clayed (to deep clean for that slippery finish), swirl free polished and waxed with a polymer paint sealant., | Seats, carpet, floormats are pre-soil treated and cleaned with hot water extractor. All panels are scubbed clean, leather is cleaned and dressed. A/C Vents, buttons knobs and all crannies are cleaned with brushes and q-tips. |
| | |
| *Engine compartment is degreased and pressure washed with 2500 PSI water. Plastic and rubber is then dressed for protection (top side only, see note below!). | Underside of hood, top side of wheel housing, cowl area is cleaned to look as close to new as possible! |
*Warning!: Athough we take precautions, there is a risk of moisture damage to electrical parts in engine compartment. Some Engine details may require a waiver from the vehicle owner to assume any repair resonsibility.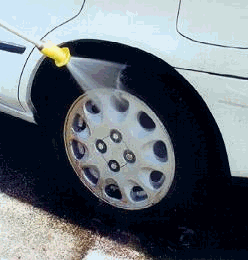 Tires, wheels, fender lips and wheel wells are cleaned and dressed for that factory showroom look!
*Extremely neglected vehicles: results maty vary.